RNA Members Only
October 7, 2020
Member access areas will be unavailable to members who owe dues after November 1, 2020.
Our Heritage
Founded in 1912 and continued uninterrupted for over 100 years.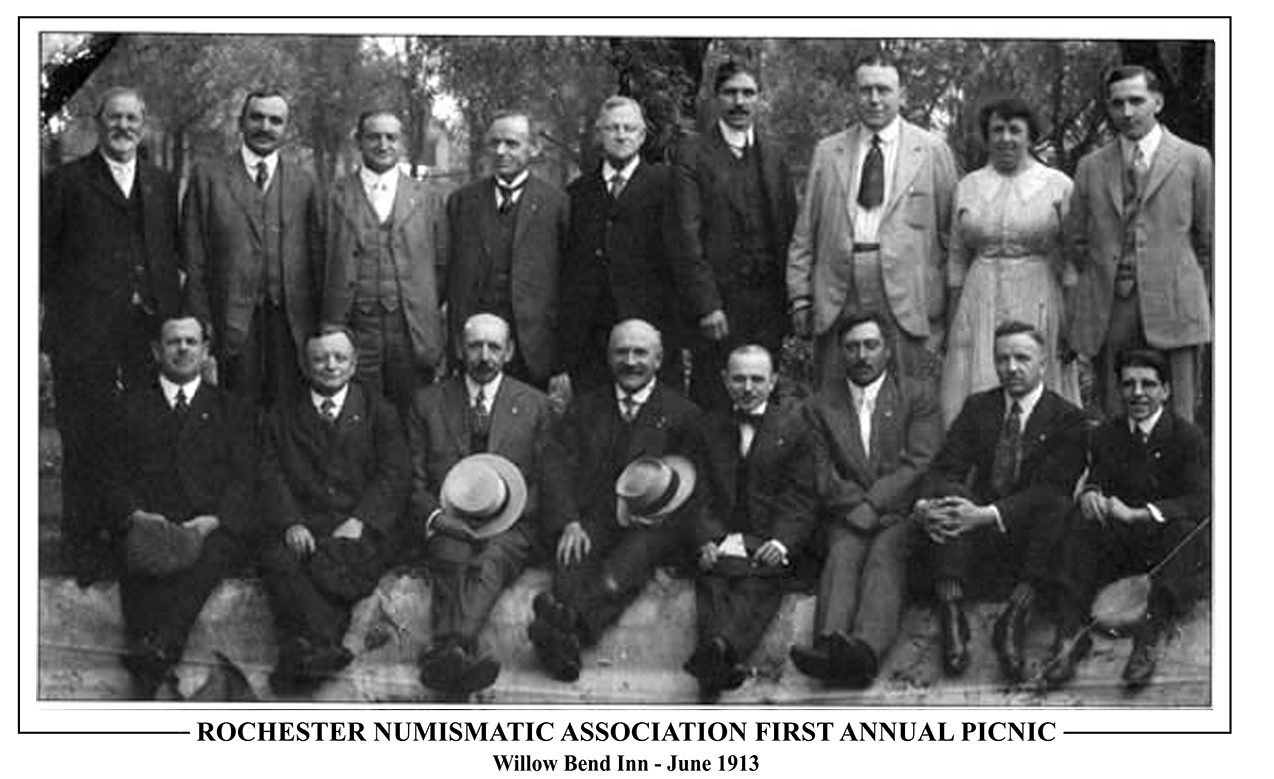 image credit: RNA libary
Seated Left to Right J.W. Horner - 1925, L.G. Amberg - 1915, F.H. King - 1916, G.A. Gilette - 1922, H.H. Yawger - 1918,
Mr. Morranary, C. Kingston, Unknown
Standing Left to Right: Dr. S. Handler - 1919, Max Weinbush, W.H. Amberg - 1921, A. Koeb (Sculptor of the First Nine RNA Presidential Medals), Dr. A.C. Parker - 1928, C.E. Bunnell, Dr. G.P. French - 1913, Mrs. G.P. French, G. Nientimp
Dr. George P. French is credited as the founder of the RNA. He graduated from Columbia Medical College in 1888 and interned at St. Mary's Hospital in Rochester, NY. After a successful private practice of 24 years Dr. French also found time to collect coins, stamps and curios. His numismatic specialty was large U.S. cents and his collection was one of the finest of its kind.
French became the first president of the fledgling RNA organization that boasted 32 charter members. One of the earliest steps that French took was to facilitate the club's membership in the American Numismatic Association, becoming Branch 2, and now ANA Life Club Member #8. The ANA was a mere 21 years old at the time, having been founded in 1891. "Branch" was the designation given to clubs that joined the national organization.
Our Centennial Anniversary
RNA presidents attending the 100th anniversary banquet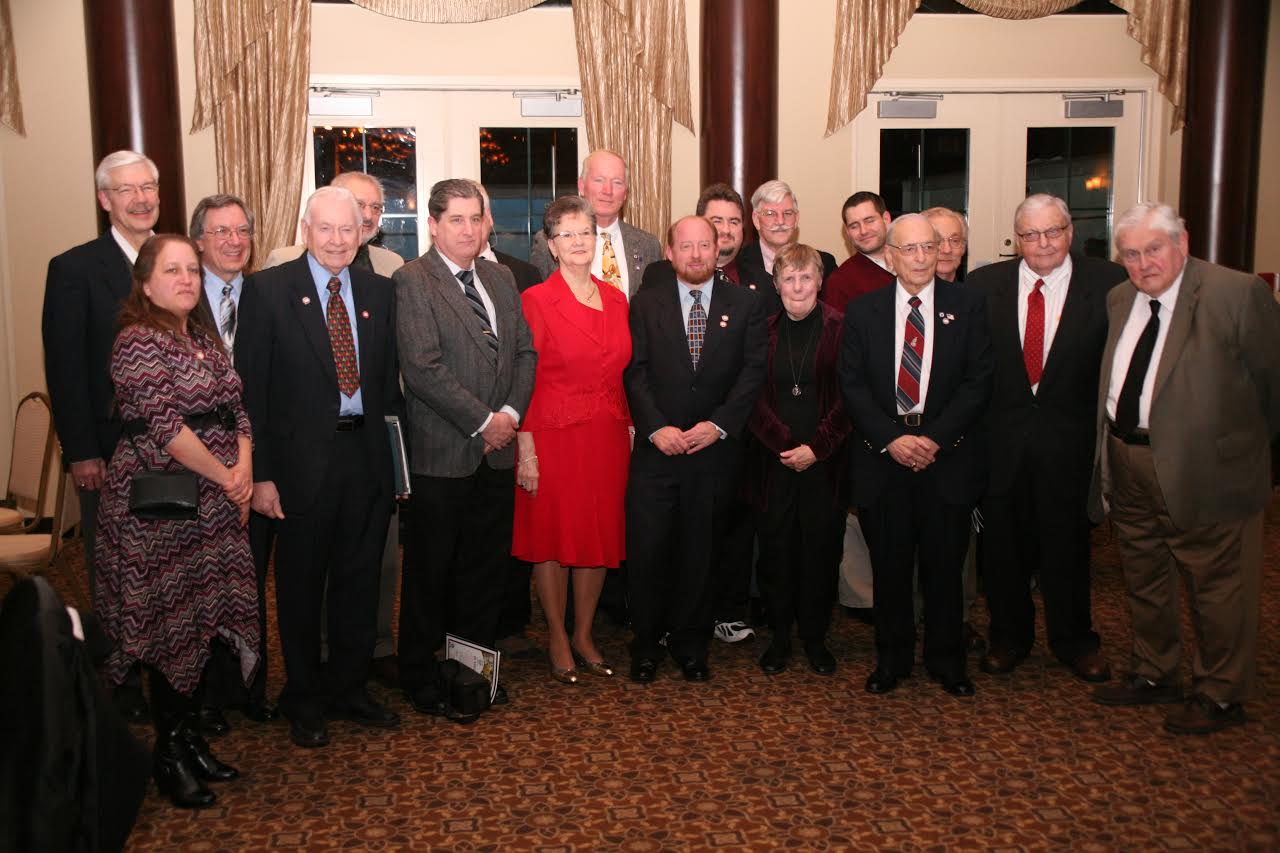 image credit: Tim Corio
Front Row Left to Right: Darlene L. Corio - 2000, Donovan A. Shilling - 1975, Dan White - 2001, Edith B. Coe - 2005, Scott D. Fybush 2002, Sheryl B. Zabel - 1996, William David Coe - 1977, Andrew Harkness - 1983, Ralph Dintruff Jr. - 1993
Back Row Left to Right: Ted Vaccarella - 2008, Carmen "Chip" Scoppa - 2012, Steven Eisinger - 2010, John Stephens - 2009, Gerard Muhl - 1979, Jason A. Childers - 2003, John E. Zabel - 1987, David Gottfried - 2004, Ken N. Traub - 1988
While embracing our heritage, today the RNA continues to meet regularly at the Rochester Museum & Science Center, home to the organization. We have one of the finest numismatic collections in the United States and an extensive, eclectic lending library for our members.
The objective of the association is to foster the pursuit of numismatics as a science, cultivate fraternal relations among collectors and students, acquire and disseminate numismatic knowledge, assist and encourage new collectors and to form and maintain a collection of numismatic items and literature for the education of the members.
RNA Numismatist of the Year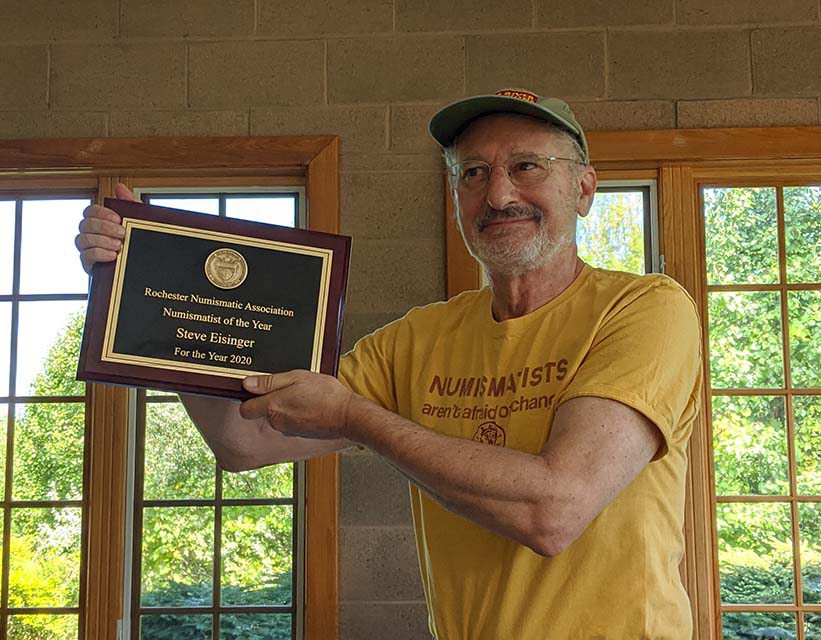 The RNA selected Steve Eisinger as Numismatist of the Year for 2020.
The presentation was made at the annual picnic on August 23, 2020 at Whitebrook Park in Perinton.
The medals honoring Mike Luck are available.
There are copper, at $7, and .999 silver, at $20, medals available.
Payment can be sent to:
Gerry Muhl
50 Rogers Pkwy
Rochester, NY 14617